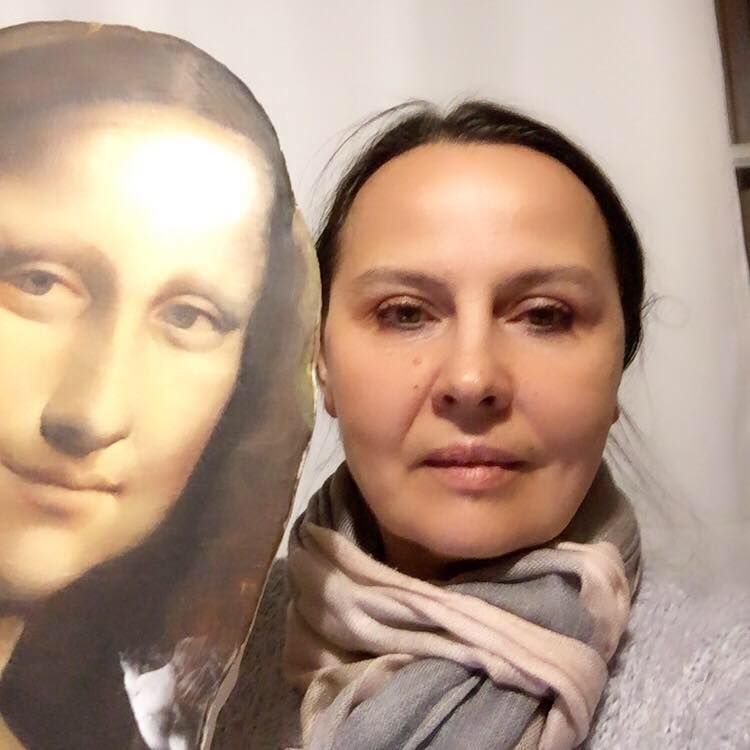 I graduated from the Faculty of Architecture at the Kiev Academy of Fine Arts. I also studied at the State Polygraphic Institute at the Faculty of the Book in Kiev. I received a classical training in drawing and painting. In Ukraine, I worked as a building architect and illustrator. After immigrating to France, I worked as a graphic designer, and received several awards for advertising videos and graphics.
My work
In my opinion, fine arts should be visual.
Through the organ of vision, to influence us visually, art conceptuality is an additional asset for emotional recharge.
At the heart of my project, lies the idea of a secondary discovery of an ancient artwork. I am not trying to interpret the image through my vision, but I am trying and recreating it as precisely as possible, so as to dive into the spiritual environment of that period. For me, it is essential to feel the stage of artwork creation by modern man, through modern materials. Understanding how this past fits into the present, as this past is the base of the present.
The artists that inspire me: Nicolas Samori, Laurent Grasso, Herbert Zangs, Michael Landy, Diaz Alama, Chad Wys, Laurent Craste, Titus Kaphar, Michael Mapes, Miguel Zapata and all the artists of the past such as Rembrandt, Leonardo da Vinci, etc.
AWARDS
The Jury Prize for artistic quality at the International Ooprint Competition (graphics)
2012 3rd Prize at the Fiat Creative Contest (video advertising)
2011 Special Jury Prize at the Univesal Mobile Eclat TV Competition (video advertising)
The 1st Prize in the BlogBang advertise / Publicis Contest for an advertisement for Inrockuptibles (video advertisement)